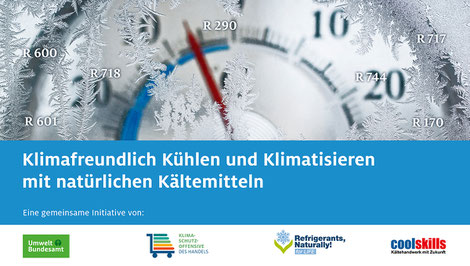 In Deutschland haben sich RefNat4LIFE, das Umweltbundesamt, die Klimaschutzoffensive des Handelsverbandes Deutschland und Coolskills zusammengeschlossen, um die Nachfrage nach energieeffizienten, klimafreundlichen Anlagen zur Kühlung und Klimatisierung zu steigern. Informieren Sie sich in unserem gemeinsamen Webinar am 26. April von 9:00 – 10:00 über die Ziele der Initiative und erfahren Sie mehr über Best Practices aus der Kühl-und Kältebranche und aktuelle Förderprogramme im Bereich Klima- und Kältetechnik.  
Weitere Informationen und Anmeldung hier
 On 07.04.2022 Spanish and Portuguese speaking food retailers and RACHP servicing companies are invited to join a webinar on environmentally friendly refrigeration equipment. The webinar is organised by RefNat4LIFE project partners Sociedad Española de Agricultura Ecológica/Agroecología (SEAE) and Associação Portuguesa de Agricultura Biológica (AgroBio), in cooperation with national RACHP servicing companies, authorities, retailer's associations and IFOAM Organics Europe.
 Register here